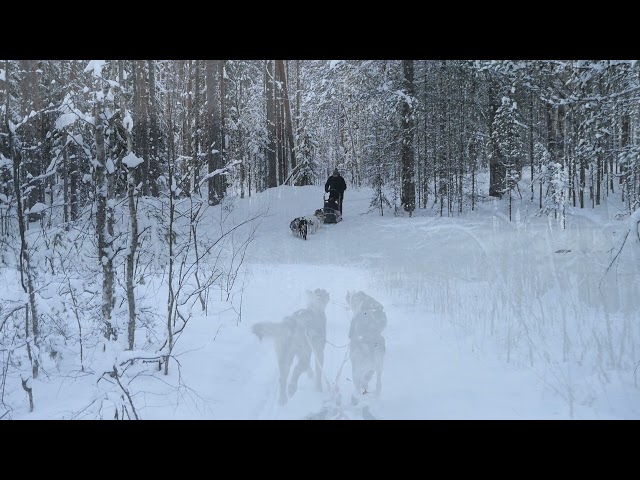 Dog sledding in Karelia, Russia (video)
Dog sledding in Каrelia, Russia
Dog sledding in Каrelia, Russia
Husky trekking
Sled dog in the Kola Peninsula
Dog sledding in Russia - the Kola Peninsula
Dog sledding history
Dog sleds have been used since ancient times by some indigenous peoples of the north who lived on the territory of modern Canada, Alaska and Siberia. In the middle of the 18th century, Russian researchers used dogs to explore the northern territories, in particular, as a part of the Great Northern Expedition. The role of dogs in the exploration of the poles of the earth is widely known. They were used in attempts to reach the North Pole by the expeditions of Fridtjof Nansen, Luigi Amedeo (Duke of Abruzzi and Prince of Savoy), Robert Peary, George Sedov and others. Norwegian explorer Roald Amundsen reached the South Pole in 1911 by dog ​​sleds.
Currently, sled dogs are widely used on winter tourist routes in Russia, Scandinavia, Canada and the USA. Sled dog races are gaining in popularity in many northern countries.

The most common breeds of sled dogs are Siberian Husky and Alaskan Malamute.
Dog sledding in Russian Karelia
Karelia is probably the best destination in Russia for dog sledding. Several dog kennels are located not far from Petrozavodsk. Among those are:
Kudama sled dog kennel at Lake Syamozero.
Chalna sled dog kennel, also known as Talvi-Ukko, Karelian Santa Claus Estate.
Sopokha sled dog kennel, located near Kivach Nature Reserve.
Two sled dog kennels are located near the Shuya River and the village of Matrosy.
Standard sled dog experience include 1-2 km long husky ride, followed with tea and biscuits.
Longer dog sledding tours usually involve 10 to 40 km husky ride with a picnic lunch in the forest or hot lunch at the kennel.
Multi-day tours may include staying 1-3 nights in a lodge or hotel, doing 20-40-km dog sledding day trips and attending other winter activities such as ice fishing, snowmobiling and Russian banya.
The ultimate 2-day dog sledding experience is quite an adventure as it includes 60-80-km dog sledding, feeding and taking care of the dogs, an evening campfire meal and one night in a tent.
Depending on snow conditions, dog sledding season extends from December to early April. During the New Year and Orthodox Christmas holidays, kennels are overwhelmed with tourists and offer only short 1-2 km rides.
In the warm season which lasts from May to October, most of the kennels offer dog trekking experience.
Husky sledding in Murmansk region

Winter tourism in the Kola Peninsula is mainly about the Northern Lights, while dog sledding and other winter activities are supposed to fill the rest of the day. A few kennels offer short dog sledding trips. Often tourists depart at once: 2-3 dog sleds with 4-6 people and the rest in snowmobile sleds, after 1-2 km they change.
The most known place for dog sledding is the Husky Park near Lovozero village, 150 km from Murmansk.
Dog sledding season in the Kola Peninsula begins in November and ends in mid April.
Dog sledding in other regions of Russia

Several sled dog kennels at Lake Baikal offer short and extended dog sledding experiences.
A few husky kennels are located in Karelian Isthmus to the north of St. Petersburg. Snow conditions depending, short dog sledding experiences are available from December till March. Dog trekking trips are offered from May to October.