During this winter break, you will participate in several outdoor and indoor activities such as:
Driving a dog sled team

Meeting reindeers and furry horses

Driving a snowmobile

Cooking traditional food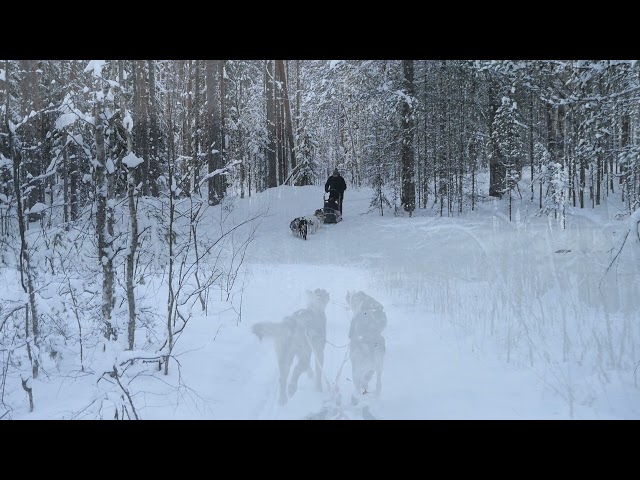 Husky sledding
Dog sledding
Husky dogs
Feeding a reindeer
Cooking class of Ruslan Poberzhin in Karjala Park
Itinerary
Day 1. Kivach Falls Winter Scenery and a Dog Sled Experience
Morning arrival in Petrozavodsk. Meet your guide at the train station (airport).
Transfer to Kivach Nature Reserve. Observe Kivach Falls and visit a small museum of local nature.
Continue to the husky kennel. Meet sled dogs, learn the necessary driving skills and set off into the wilderness, following the guide's team. Participants travel in pairs, each taking turns to drive and ride on the sled, covering about 2.5 km.
Meet and feed reindeers. Meet Mezen horses – a Russian breed of draft horse with long hair that helps it to keep up with the cold.
Hot tea.
Transfer to the hotel.

Free evening and overnight.
Day 2. Snowmobile Safari and a Culinary Master Class
Included meals:

Breakfast, Lunch
After breakfast, transfer for the snowmobiling safari where everyone will get warm clothes, boots & helmets and listen to a safety briefing and instructions on driving a 2-seater snowmobile. Start the engines and set off for a snowmobiling experience in snowy taiga wilderness (approx. 10-km trail).
After you return from the safari, we will arrange a culinary master class which include grilling planked salmon/trout in the Finnish way or baking traditional Rybnik (Russian fish pie). A local chef will show you through the cooking process and when we're done, we'll have the chance to eat our creations for lunch.

Transfer to Petrozavodsk station or airport in time for your evening train or plane*.
*You may want to stay for a day or two in Petrozavodsk to visit Kizhi Island and other attractions.
2 people – 38000 Rubles per person.

Season: December – early April.
Included
1. One night in a double room in a 4* hotel.
2. One breakfast, one lunch, a culinary master class.
3. Activities as per the itinerary. Dogsledding - 2 persons/sled, snowmobiling - 2 persons/snowmobile.
4. Transportation by a car or van as per the itinerary.
5. Russian-speaking or English-speaking assistance throughout the tour.
Questions & Answers
What kind of vehicles do you use?
We use modern, comfortable 9-seater vans, for example Volkswagen Caravella with plenty of luggage space.
For smaller groups we use suitably sized cars, such as Skoda Octavia.
For bigger groups we use Mercedes Sprinter buses or full-sized coaches.