Winter dog sledding experience in Russian Karelia
Kennel visit to meet the dogs

Dog sled wilderness adventure

Suitable for beginners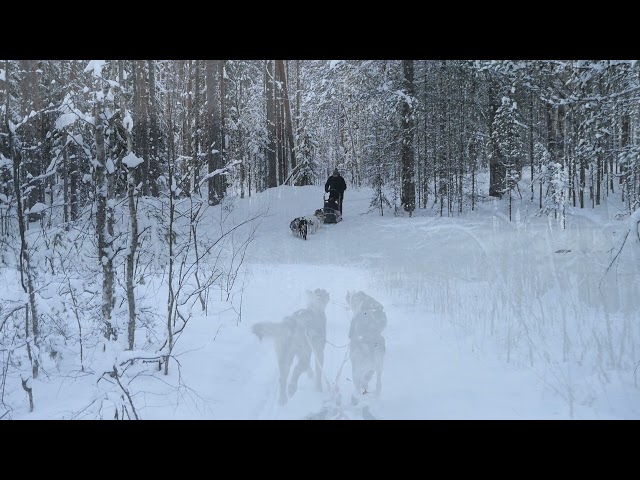 Husky sledding in Karelia, Russia
Dog sled tour in Karelia
Sled dogs kennel in Karelia, Russia
Dog sledding tour
Husky dog
Dog sledding in Karelia, Russia
Itinerary
Dog Sled Safari in Karelia
Included meals:

Tea break
Pick up at the train station or hotel in Petrozavodsk.
Transfer to the husky kennel, located in 80 km from Petrozavodsk.
Meet sled dogs. Learn how to harness a sled dog and how to slow and stop your dog sled team.
Take off on a scenic trip through Karelia taiga forest. You will be sharing a sled for two – a musher and a passenger. You may change the roles while on the tour. Your dog sledding guide will follow you throughout the whole safari with his or her own dog team or on a snowmobile.
Standard dog sledding experience includes 2-km safari; availability depending you may attend for a longer trip of 5-10 or 30-40 km.
Herbal tea and cookies are served once you return to the kennel.
Transfer to Petrozavodsk and drop off at the hotel or train station.
1 adult – 13000 Rubles;
2 adults – 8500 Rubles per person;
3 adults – 7200 Rubles per person;
4 adults – 6500 Rubles per person.
Season: December – early April, snow conditions depending.
Please, request availability using the form below or via e-mail.
Included
- Private transfers
- 2-km dog sledding safari
- Tea and snacks
- English-speaking assistance throughout the tour.
Questions & Answers
What kind of vehicles do you use?
We use modern, comfortable 9-seater vans, for example Volkswagen Caravella with plenty of luggage space.
For smaller groups we use suitably sized cars, such as Skoda Octavia.
For bigger groups we use Mercedes Sprinter buses or full-sized coaches.