See the famous Faberge eggs on our live stream virtual tour.
Shuvalovsky Palace

Royal Easter eggs produced for the Romanovs

Jewelry masterpieces by Faberge and other Russian masters

Russian icons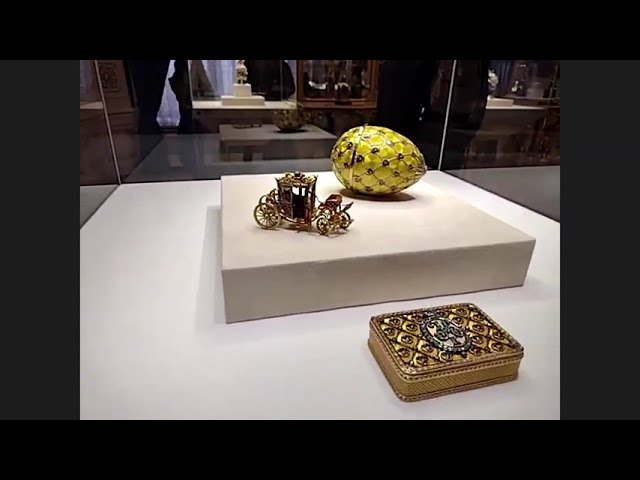 Video preview
Renaissance Easter Egg, 1894, House of Faberge
Coronation Easter Egg, 1897, House of Fabergé
Fifteenth Anniversary Easter Egg, 1911
Chanticleer Easter Egg, 1904 House of Fabergé
Cockerel Easter Egg, 1900, House of Fabergé
Table lamp, early 20th century
Russian icons
Shuvalov's Palace
Itinerary
Faberge Museum Live Virtual Tour
Our English-speaking guide will deliver this tour from Shuvalovsky Palace via zoom conference software. The tour lasts approx. 60 minutes.
This tour starts on the main staircase of the palace. The guide will give a short introduction of the place. Then we proceed to the state rooms of the palace:
- Knights' Hall – items and decorations connected with the history of the Russian Navy and Army,
- Red Drawing-Room – Russian silverware produced by different masters,
- Blue Drawing-Room – Nine Royal Easter eggs created by the Faberge workshop for the Romanov family,
- Golden Drawing-Room – Royal gifts, and the so called "objets de fantasié" by Faberge workshop,
- Ante-room – jewelry and accessories,
- Exhibition Hall – stone-carved items by Faberge workshop,
- Gothic Hall – Russian icons,
- White Drawing-room – Russian porcelain and enamels.
*You will need a good internet connection to experience this tour.
Private tour for up to 6 connections - 6000 Rubles per group, plus 700 Rubles per connection
Included
1. English-speaking guide's services.
2. Entrance fee to the museum (the Faberge museum charges us 500 Rubles per every Zoom connection).
3. A brochure with the highlights of the tour.
Questions & Answers
How to book and join an online tour or event?
Please, send a request via website form or email. No later than 12 hours before your tour start time, you will receive the zoom login details by email.
What time zone is the tour?
Our virtual tours operate at Moscow time. It is important that you check what time this is for you in your own time zone before you book. You may use this time zone converter to convert and compare time in different time zones.