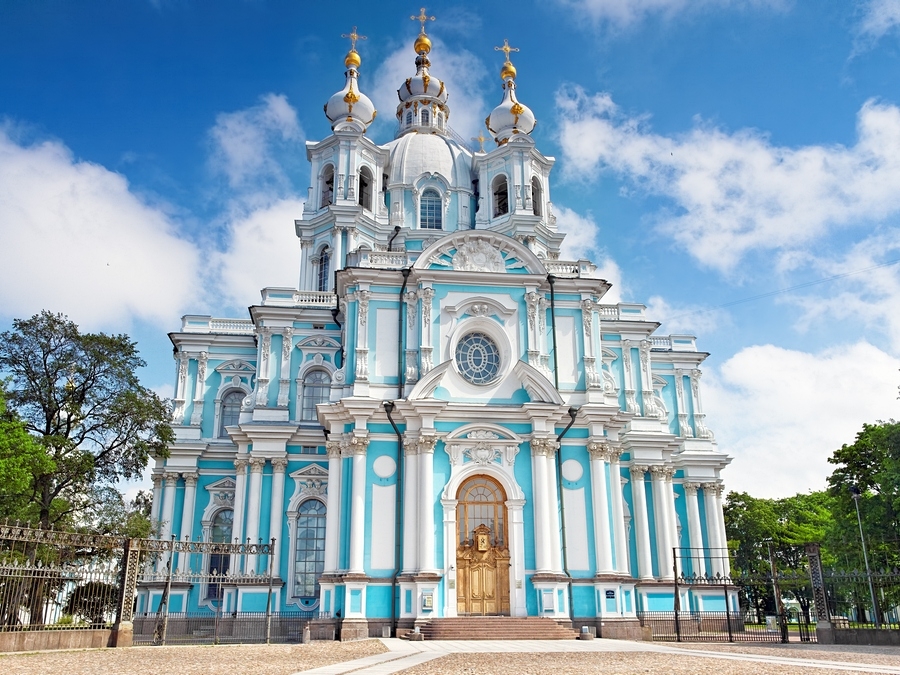 The plan of the whole complex is seen as a greek cross with a cathedral in the middle and four churches at the corners. The main part of the convent is Smolny Cathedral of the Resurrection.

The construction of the Smolny Cathedral of the Resurrection was started in 1748. The architect of the Cathedral was Francesco Bartalameo Rastrelli. Construction took quite a lot of time and the cathedral was consecrated in July of 1835 only.

Smolny Cathedral St. Petersburg After the October Revolution of 1917 Smolny Cathedral was closed and later it was used as a warehouse. During the days of the Revolution the buildings of Smolny Convent housed the main headquarters of the first Bolshevik (Communist) government. When the government moved to the Moscow Kremlin, the Smolny became the headquarters of the local Communist Party.

In 1990 a concert hall was opened in the Cathedral. The height of the Cathedral comes to 93 meters and the observation site is located at the height of 50 meters. At the moment the complex is a part of the State Museum "Museum of Four Cathedrals". Some building of the Convent host the department of sociology of St. Petersburg State University.

Opening hours:
From 11:00 till 18:00, closed on Wednesday.
Timetable is subject to change without prior notice.