It was built as a war fortress as at that time Russia was involved in the Great Northern war against Sweden for the going to the Baltic Sea. The island was very nicely located in the mouth of the Neva river and it helped to control the ships entering the river from the Gulf of Finland. The first fortress was made of earth but after several floodings Tzar Peter the Great decided to build a stone fortress.

In 1706 the first stone fort was constructed with six wooden bastions. Peter the Great invited the famous architect D. Tresini to conduct the construction. The width of the walls was 5-6 meters and their height came to 12 meters. Eash bastion was equipped with 50-60 cannons. Nowadays the Fortress is the only surviving fortified structure in Europe built in strict accordance with the bastion system.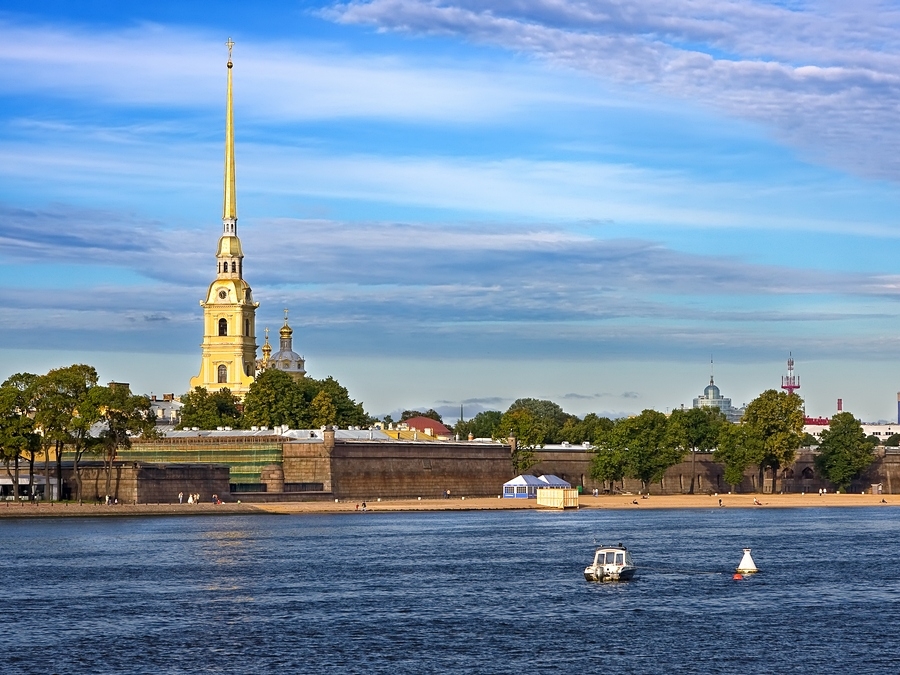 The fort was used as a base for the city garrison and also as a prison for noble and political prisoners. The main Cathedral of the Fortress is called Peter and Paul Cathedral. It was built in 1712-1733. The construction of the cathedral was started with the building of the bell tower. The total height of the spire on the belfry with the cross and angel figure comes to 122,5 meters. It is still the highest architectural structure in St. Petersburg. Russian tsars from Peter the Great to Nicholas II (except for Peter II and Ivan VI) are buried in the Peter and Paul Cathedral. The last burials were implemented in 1998 and in 2006. In 1998 the remains of Nicolas II and his family were brought to Saint Petersburg and buried in the Cathedral.

After the revolution of 1917 the Cathedral was protected by the Soviet government as an architectural monument. The exterior and interior of the Cathedral were preserved. In 1924 the Fortress became a museum. Peter and Paul fortress is one of the major symbols of St. Petersburg.

Opening hours:
Cathedral - daily from 10:00 till 18:00
The fortress yard - daily from 10:00 till 20:00
Within 01.10 - 30.04 the museum complex is closed on Wednesdays.
Timetable is subject to change without prior notice.