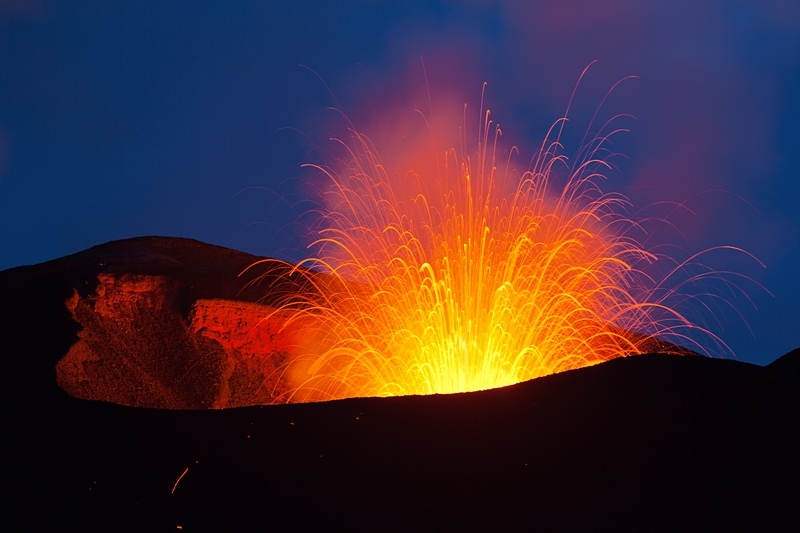 Kamchatka is the land of smoking volcanoes. There are numerous boiling geysers and hot springs, which are located all over the area. Anyone can take a bath in different thermal pools both in summer and in winter.
The climate is damp and chilly. It is anomalously cooler and windier on the coast (especially on the western coast), than in the central part of the peninsula and in the flood-lands of the Kamchatka river, which are protected by mountain ranges.


The first snow in winter appears approxiamately in November and melts May-June. The actual spring comes in May-June and it is very short. The mountain peaks are covered with snow all year round. The coastal winter is mild, warm and snowy, in the continental part winter is cold and frosty with long dark nights and short days. One can enjoy summer only in the continental part of the peninsula. As a rule autumn is dry and warm, sometimes even warmer than summer.

The most attractive sights of the peninsula are its volcanoes which are divided into two groups. The Central range (length of 900 km) consists of about 120 volcanoes, out of which 2 volcanoes are active ones. The highest peak of the Central range is Ichinsky volcano (3621 m).

The Eastern range (length of 850 km) is a place of modern volcanicity. It is represented by 100 powerful volcanoes and 30 volcanoes are active ones. The highest volcano of Eurasia is Kluchevskaya Sopka, which is 4850 meters above the sea level. There are 12 volcanoes in the area of Kluchevskaya Sopka and this territory has the status of a natural park.

The main city on Kamchatka peninsula is Petropavlovsk-Kamchatsky, which was founded by Vitus Bering in 1740 as a starting point for expeditions to explore the North as well as the area and islands around the peninsula. Today it is a big city and a port with the population of 300 thousand people and it is the capital of Kamchatka region.

Flora and fauna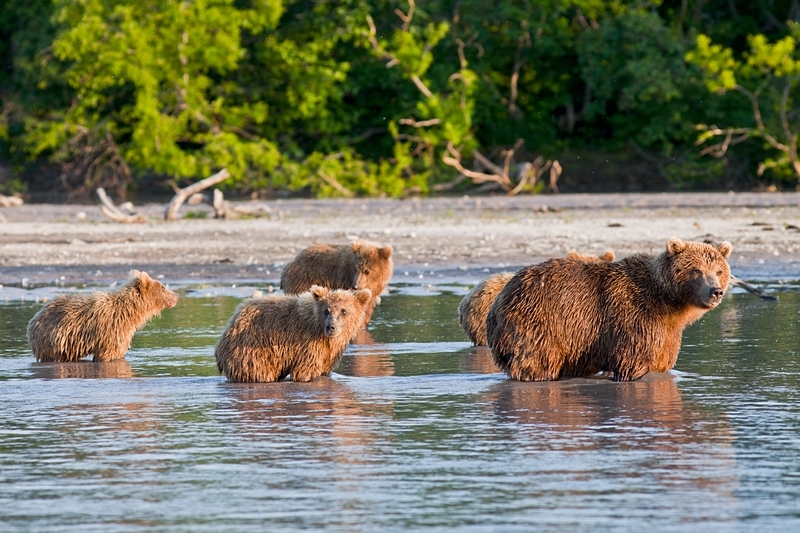 Fauna of Kamchatka is various. There are 88 species of mammals including whales, pinnipedians, bears, elks, bighorns, reindeers and sea otters. 332 bird species include Stellar Eagle, Goshawk, Red-throated loon, Horned Grebe, Falcated Teal, Emperor Goose, Garganey, Bufflehead, Northern Fulmar, Puffin etc. In the inner lakes rivers and surrounding waters 500 species of fish can be found including salmon, sturgeon, shark, cramp-fish, white-fish, grayling, cabrilla, flounder, halibut, cod, etc.

Kamchatka is an interesting place for the lovers of untouched nature and flora. One can observe different species of plants on these territories such as cedar, alder, iris, lily, fireweed, hawkweed, aleutian ragwort, rose, aconite, salad burnet, northern bedstraw, bugbane, etc. All in all there are 1166 species of plants in Kamchatka.

Kamchatka is famous for salmon fishing on local rivers, including fishing for such species as japanese salmon (sima), silver salmon, blueback salmon (nerka) and mikizha (steelhead trout). Bear watching and hunting are also very popular activities in this region.