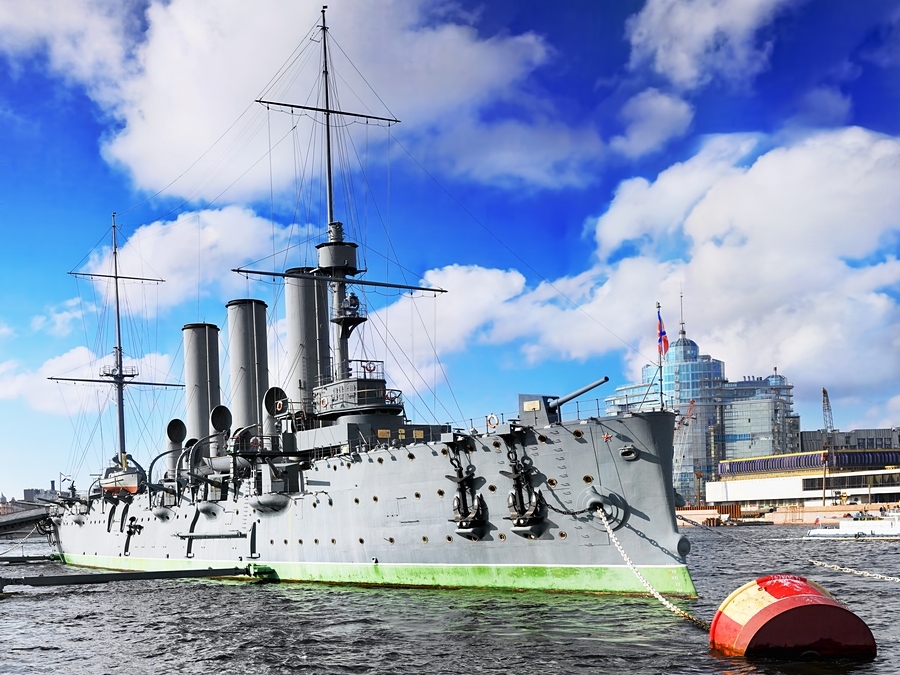 The history of the ship started in 1897 when the New Admiralteisky Shipyard started the construction of the battleship. In 1900 the project was completed and the cruiser started its service in the Russian fleet.
During the Russo-Japanese War of 1904-1905 the cruiser took part in Tsusima battle in May of 1905 when the Russian fleet was defeated by the Japanese fleet. After that war the battleship Aurora had been used as a training ship and within the period of 1906-1912 it visited many ports in different countries all over the world.

In 1917 the crew of the ship participated in the actions of the February and October revolutions. After the Civil War of 1918-1922 the battleship was turned into a training ship again for the naval cadets, the school is located by the ship. In 1927 the cruiser was awarded with the Order of the Red Banner.

During the Great Patriotic War (WWII) being a part of the Soviet fleet the cruiser participated in the defense of the city of Leningrad (present St. Petersburg). During the siege of Leningrad (1941-1944) the battleship protected the boundaries of the city in the Gulf of Finland. It was bombed many times by the German airplanes and by the end of the war it had many shell holes. Later the ship was sent to the repairing workshops.

In 1956 the cruiser was turned into the museum as a branch of the Central Naval Museum. In 1968 the battleship was awarded with the Order of the October Revolution. Nowadays it is one of the most popular sights of Saint Petersburg and it is one of the symbols of the Russian navy and its victories.
At present the cruiser Aurora is situated in Kronstadt at the repairing dock. Soon it will be returned to its historical place.
Opening hours:
From 10:30 till 16:00, closed on Monday and Friday.
Timetable is subject to change without prior notice.